Mental Health and Employment Partnership (Staffordshire, Haringey & Tower Hamlets)
Mental Health and Employment Partnership (Staffordshire, Haringey & Tower Hamlets)
Social Impact Bond
Mental health
Unemployment
Mental Health and Employment Partnership (Staffordshire, Haringey & Tower Hamlets)
United Kingdom
4 mins read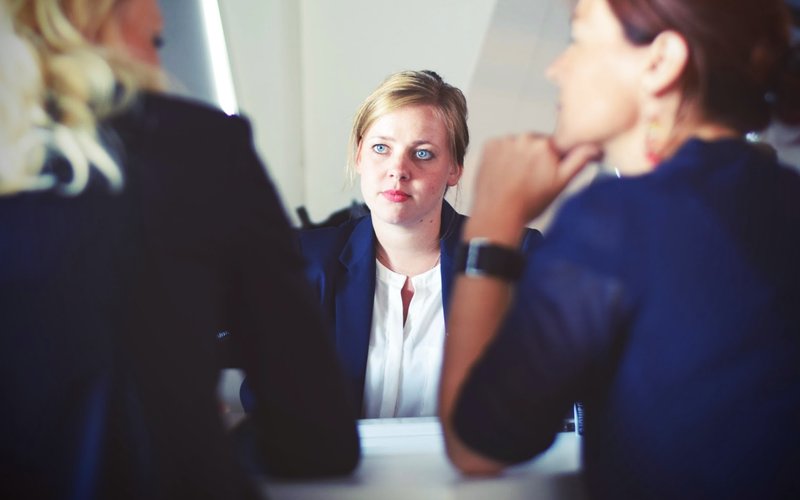 The Mental Health and Employment Partnership was set up to support employment programmes for people with mental health issues and other groups with health conditions and disabilities.
Mental illness is the largest single cause of disability in the UK, and almost one in four adults and one in 10 young people have a mental health problem. Mental health accounts for 23 per cent of NHS activity, and the NHS Next Steps on the Five Year Forward View identifies mental health as a key priority area. 
Moreover, people with mental health issues are 22% less likely to be in work compared to the general population, which further exacerbates their mental health issues. The cost of not tackling this issue is much greater than funding an effective the intervention, and according to some estimates, a person with a health condition moving into work can generate £5–10k in savings or higher tax receipts for government.
The Mental Health and Employment Partnership was set up in 2015 to drive a large-scale expansion of high-quality supported employment programmes for people with mental health issues and other groups with health conditions and disabilities.
The service provided through the Mental Health and Employment Partnership (MHEP) is based on the Individual Placement Support (IPS) model, which has been subject to rigorous national and international research demonstrating impact, and is backed by a well-defined operating model. The service is based on a 'place then train' model which is thought to be more effective than traditional approaches such as vocational training and sheltered work. It does not screen people for work "readiness" or "employability", and does not exclude people on the basis of diagnosis, symptoms or substance misuse.

MHEP's target outcomes include improved well-being and self-reliance for the individuals concerned, and an increased number of job seekers entering and sustaining quality employment. In 2016/17 the organisation engaged 559 individuals, 133 of whom started in employment, with 91 people sustaining a job for more than 6 weeks.

The programme was recently expanded to Barnet, Enfield, and Camden, and 8 boroughs of West London. Read more here.
Key facts and figures
Launch date

2016

Duration

3 years

Capital raised

£400k

Maximum outcome payments

£2.9m
Target population

People with severe mental health conditions who are out of work

Commissioners

Staffordshire County Council, London Borough of Haringey, Tower Hamlets Clinical Commissioning Group, Commissioning Better Outcomes Fund, Social Outcomes Fund

Providers

Twining Enterprise, Making Space, and Working Well Trust

Investor

Big Issue Invest

Intermediary

Social Finance (model development & contract management)
Outcomes framework
Successful engagement of users

Job entry (<16 hours/week)

Job entry (>16 hours/week)

Job sustainment (<16 hours/week)

Job sustainment (>16 hours/week)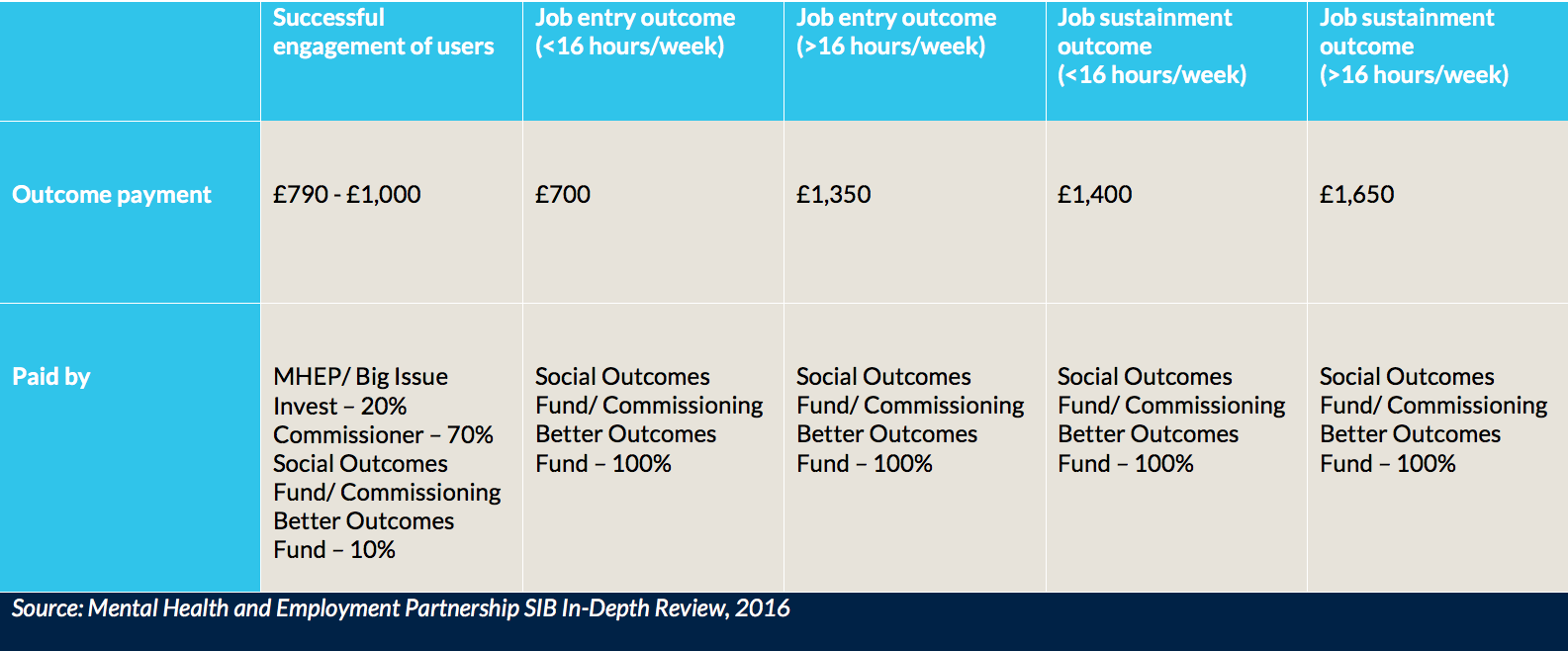 Timeline
Initial engagement with central and local government regarding gap in provision for hardest to help population groups, particularly those with health and mental health conditions.

2014

In-depth research into evidence base for intervention. IPS identified as having a particularly strong body of evidence as its effectiveness.

2014

Social Finance sets up MHEP and HEP as a way to enable local commissioners and Commissioning Better Outcomes Fund (CBO) and Social Outcomes Fund (SOF) to jointly commission IPS services.

2015

CBO and SFO in-principle funding confirmed.

2015

Social investors engagement, resulting in £400,000 of capital investment being secured from Big Issue Invest.

2015

Agreements put in place with Staffordshire and Tower Hamlets, and subsequently with Haringey. 

2015

Commissioning authorities' procurement processes commence.

2015

Contracts awarded to successful providers.

2016

April 2016
We sometimes talk about the unique model of MHEP as a co-commissioner of services, as opposed to an investor that bids into procurement. Because MHEP's relationship with each co-commissioner is similar, with similar contracting documents, we can add additional areas relatively easily.
Adam Swersky, Director, Social Finance
Project insights
Contracting arrangements

The Mental Health and Employment Partnership was designed and set up by Social Finance, as a social investment vehicle through which commissioners of mental health supported employment services can procure the Individual Placement and Support (IPS) specialist intervention. As such, MHEP provides a ready to use service specification and contract that is flexible enough to accommodate different contractual arrangements according to each commissioner's respective requirements. This means that MHEP can support commissioners end-to-end with service design, procurement, mobilisation, and contract management. 

The MHEP vehicle allows for different commissioners to work with it in contracting with providers on an individual basis. This has allowed, for examples, the structures for Staffordshire and Tower Hamlets to be different from each other whilst commissioning the same IPS service from respective providers. It has also made it much easier to expand the model - first to Camden, Barnet, and Enfield, and more recently to 8 boroughs of West London, with potential further expansion in the pipeline. 

Read more about the different contracting models at local level here.


Social Finance has established Health and Employment Partnerships (HEP) as a separate company that is intended to set up, over time, different social investment vehicle of which MHEP is the first. MHEP was established as a special purpose vehicle (SPV) with an initial investment of £400,000 from Big Issue Invest, which retains 100% of the economic interest in the company. HEP has a subsidiary interest in MHEP which confers some voting rights and a seat on its Board. 


Source: Mental Health and Employment Partnership SIB In-Depth Review, 2016.

Bridging the gap between national and local funding

Despite the significant interlinkages between mental health and unemployment, there is a disconnect between large-scale national funding targeted at helping people secure employment and locally-funded mental health support services. The flexibility of the MHEP structure is seen as one of the key strengths of the model, as in practice this means that the partnership is open to adding both local and central government commissioners over time.

While the MHEP SIB approach has enabled the commissioning local authorities to implement a new model of care and support, a significant challenge in this area remains how the costs and savings that accrue separately to the Department for Work and Pensions (DWP), Health and local commissioners are attributed. 

In the MHEP SIB, this asymmetry is overcome through outcome payments from central government funding (i.e. Commissioning Better Outcomes Fund and Social Outcomes Fund). The local commissioners pay for the successful engagement of users (the rationale being that they are benefiting from the improved health outcomes for patients), while Commissioning Better Outcomes (CBO) and Social Outcomes Fund (SOF) funding is used to pay for the job outcomes. The rationale for SOF to pay for the employment outcomes is that its contribution reflects the savings to central government from sustained employments. The rationale for CBO to support this model is the strong potential for social impact on service users, for engagement with local providers through a variety of VCSE-focused procurement models and for scaling, replication and generating impactful learning. 

Source: Mental Health and Employment Partnership SIB In-Depth Review, 2016.