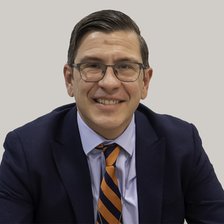 Paul Morrison
Chief Executive, Planning Inspectorate
Paul Morrison started as Chief Executive of the Planning Inspectorate in December 2022. He comes to this role from the Ukraine Humanitarian Task Force where he helped create and lead the UK's operation to allow Ukrainians displaced by the current conflict to find safety in this country.
He started his career by joining the Home Office in 1996 as an Administrative Officer. He has since spent time in a range of operational and policy roles across several Government departments including the Department for Levelling-up, Housing and Communities (DLUHC), Food Standards Agency (FSA), Home Office, Foreign and Commonwealth Office (FCO) and Northern Ireland Office.
Roles have included:
• The Director of Planning Transformation in DLUHC - leading the Government's programme to digitalise the planning system, overhaul legislation, and introduce new style local plans and citizen engagement.
• Director, Resettlement, Asylum Support and Integration - creating a multi-Departmental (across Home Office, MHCLG/DfID (as was)) new Directorate encompassing operations and policy. Successes included resettling 23,000 refugees in the UK by 2020.
• Leading In-country Migration Casework, UK Visas and Immigration, Home Office - leading a c3,500 strong operation, serving around 600k customers. Responsible for processing applications for student, work and family visa extensions, permanent settlement and awarding British Citizenship for naturalised citizens.
• Head of Counter Terrorism, Foreign and Commonwealth Office - leading the largest thematic policy Department in the FCO.
• Director, Prevent, Office of Security and Counter Terrorism (OSCT), Home Office - acting as first SCS lead for Prevent across Government. Formulating the first genuine cross-Government strategy to stop people becoming terrorists or violent extremists (the Prevent Strategy) and developing a delivery infrastructure across the United Kingdom and internationally.