INDIGO
Better data for better social outcomes
We are the International Network for Data on Impact and Government Outcomes (INDIGO). Here you can explore our datasets, read our latest news, join our events and find out more about data sharing in the field of social outcomes.
About INDIGO
Latest INDIGO news & events
What is INDIGO?
INDIGO is a community of peers from different countries, sectors and policy domains with an interest in sharing data about projects that seek to address complex social problems.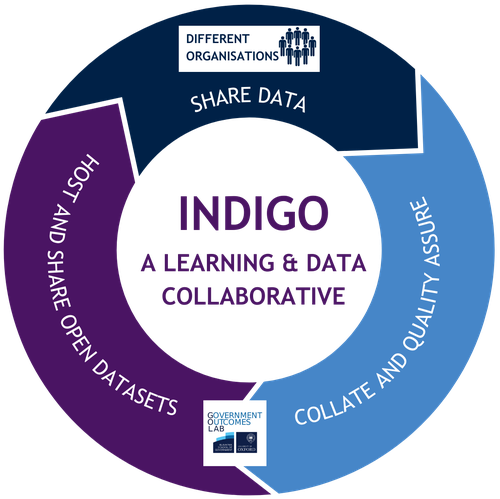 The INDIGO initiative includes community activities, a system for sharing data, and various datasets available as open data on the GO Lab website. As an emerging data collaborative, we believe that helping more people share and use quality data will improve both the efficiency and effectiveness of these projects.
System
INDIGO offers a collaborative open process for sharing information about outcomes projects, including data definitions and open source code for our database and data visualisations.
Data
An outcomes-based approach fundamentally involves data on outcomes. Data may be used within an organisation, among a group of organisations, and with external parties including the public. To date our focus has been on impact bonds. Our intention is to widen this focus to include other types of collaborations around social outcomes. 
Explore more from INDIGO
INDIGO's datasets and tools have been used by academics, policymakers, and public and private sector practitioners from all around the world. See how INDIGO can be relevant to your work.
INDIGO is always looking for more partners and collaborators! Learn more about ways to contribute or work with us here.
Need more information? Check out our frequently asked questions or reach out to us at indigo@bsg.ox.ac.uk.
Impact Bond Network Evolution
Click play to watch the impact bond network's growth journey below.
Are you delivering an impact bond right now?
Please tell us about your project and your organisation
Share data with INDIGO