Highlights from Day 2 of SOC21
Here's an overview of all the sessions and the recordings for Day 2 of the hybrid Social Outcomes Conference 2021.
Thank you to everyone who joined this year's Social Outcomes Conference. We have been blown away by the excellent quality of discussions over the last few days. The GO Lab team are delighted to have met so many of you in-person and to have engaged in insightful conversations with those attending online. This year, we welcomed 117 speakers from 29 countries and hundreds of participants joined us both online in Oxford. We hope to see you again next year for SOC22: 8-9 September 2022.

You can find highlights from SOC21 Day 2 and recordings of our big picture sessions and public talk here. The rest of the session recordings will be published over the coming days.
Morning deep dives
We kicked off the jam-packed day with three concurrent deep dive sessions. In the first session, we had an adventure through the challenges of awarding outcomes-based contracts. We heard a range of presentations, including on the GO Lab's recent work on procurement in the EU, and the latest draft of the Oxford Procurement of Government Outcomes (POGO) club's social impact bond (SIB) contract template. As the panel discussed challenges including risk transfer and transparency, Julian Blake neatly highlighted that at its core, "the contract is really about aligning mindsets to achieve social outcomes".
Listen to the audio recording of the session.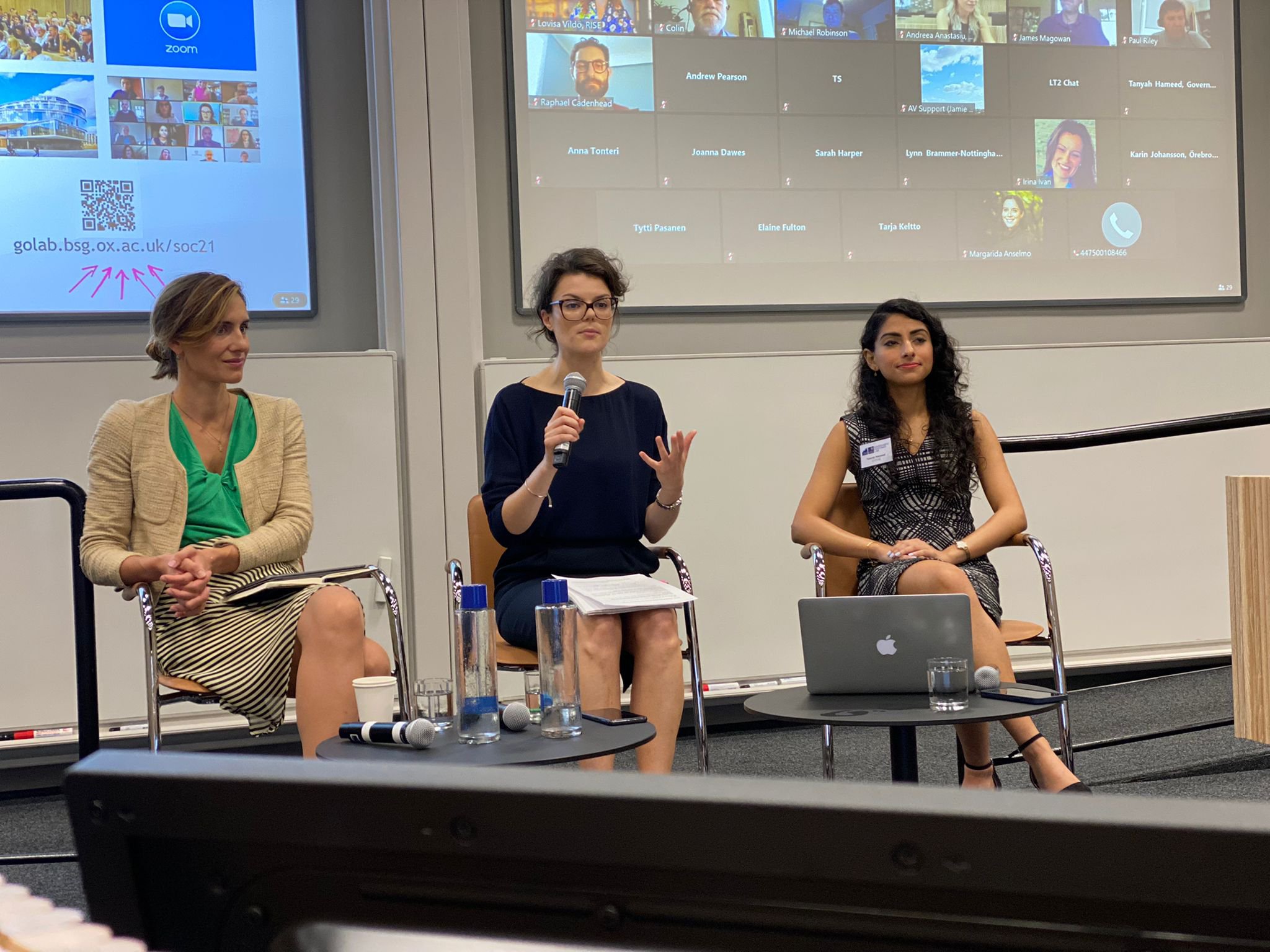 Listen to the audio recording of the session.
The third opening deep dive built on the measurement theme of yesterday's keynote address, exploring a range of innovations in, and aspects of, the field of social impact measurement. Lieve Vanleeuw, from the South African Medical Research Council, described the challenges of attributing improved results to a provider's work given they were to be paid on that basis. James Copestake (University of Bath) offered a new tool with a similar aim: QuIP. This addresses the attribution problem in a simple way: asking people directly. Lavinia Pastore shared an analysis of hundreds of studies on Social Return on Investment, finding issues around subjectivity and lack of standardisation. Joy MacKeith of Triangle explained how the 'outcomes star' can be used directly with service users to help them assess their own progress. And Ana Pimenta presented an interesting attempt to break the Sustainable Development Goals into small 'units' of impact.
Listen to the audio recording of the session.
Big picture - the global evidence on outcomes-based contracting
After a short break, we started our first big picture session of the day, to attempt to make sense of the global evidence on outcomes-based contracting approaches. The session centered on the GO Lab and Ecorys' Global Systematic Review on Social Outcomes Contracting. This ambitious review of 11,233 papers (narrowed down to 2082) aims to capture any study of outcomes-based contracting in any language since 1990. As James Ronicle (Ecorys) explained, the review searched for papers based on 65 terms used across different languages around the world to talk about outcomes-based contracts (and we'd love to hear about any more you might have heard of). This, in James' words, leaves us with "a patchwork quilt with no threads pulling it together".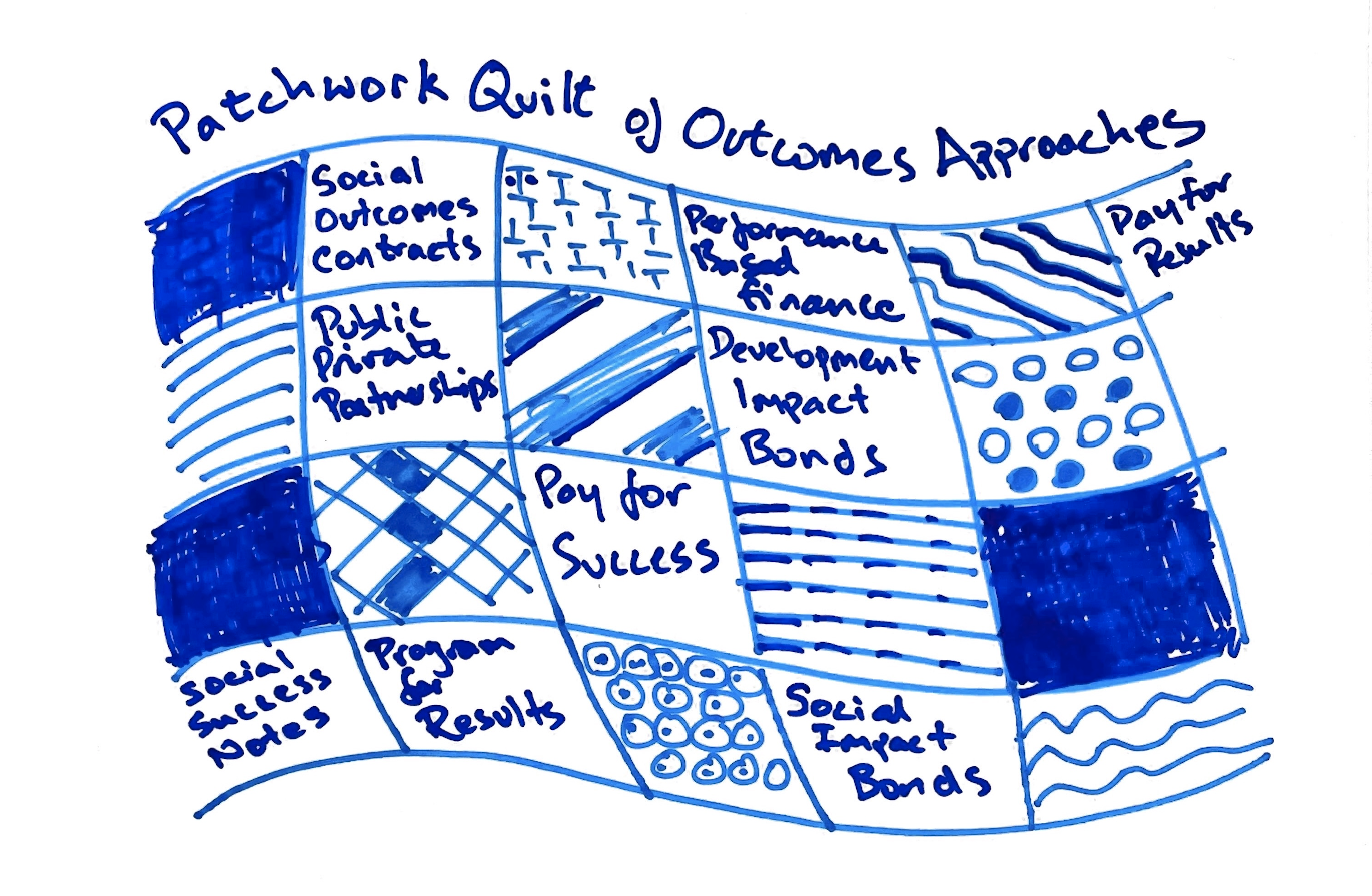 The systematic review, then, aims to pull those threads together, and ultimately support policymaking decisions and enable further synthesis for researchers. After presenting a prototype tool that will help users to navigate the studies covered by the review, GO Lab Research Director Eleanor Carter asked our panel: "What would good evidence-based policymaking look like in the world of social outcomes contracting?"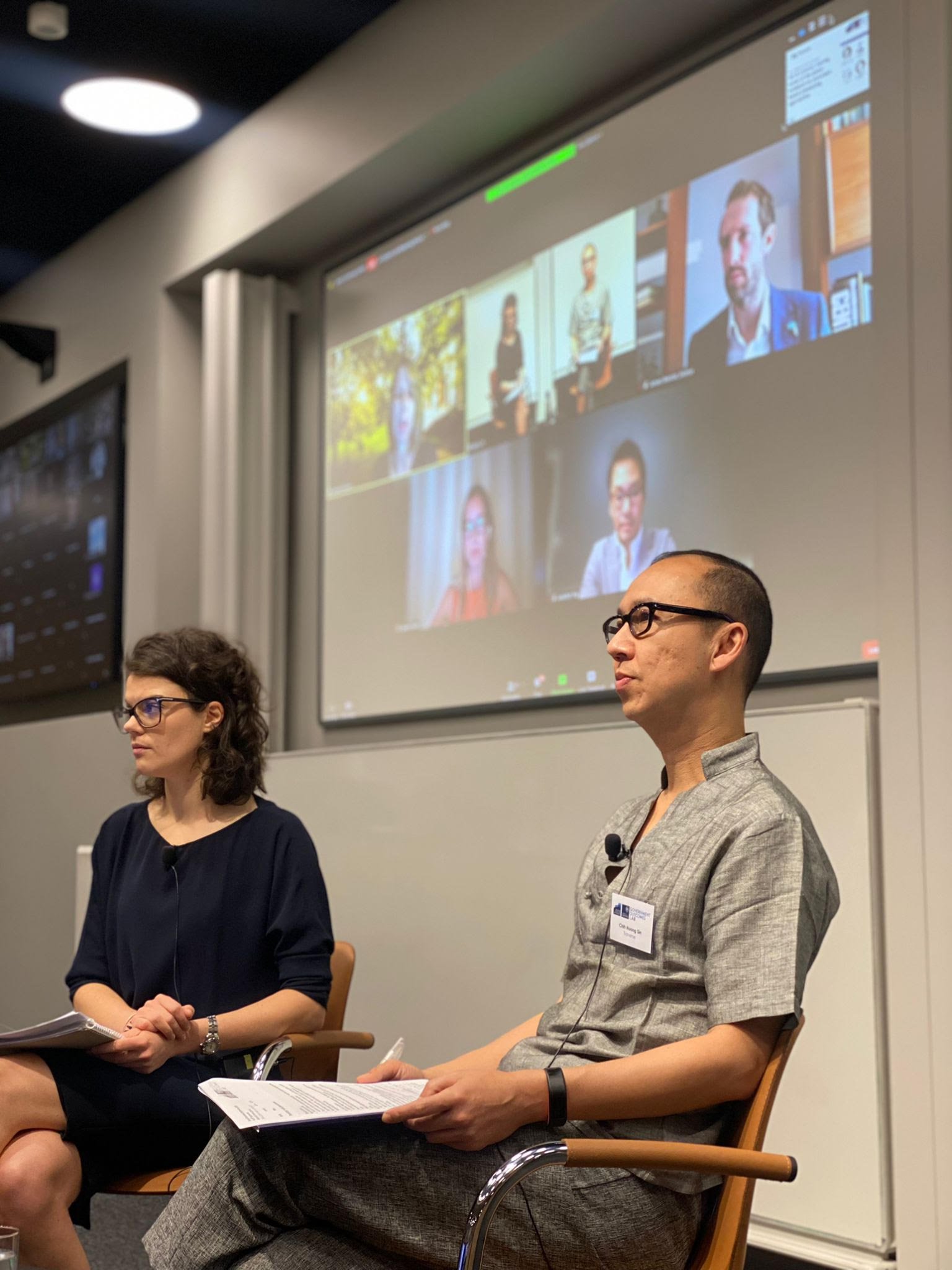 Reflecting on the practical implications of the global systematic review, Jessica Lopez Taylor (World Bank) urged those exploring outcomes-based contracts to "use the evidence, but design your own approach". For Jonathan Ng (USAID), simplicity is key to making sure we move money effectively, while James Magowan (DCMS, UK Government) similarly emphasised the importance of assessing the useability of the papers in the study. And in response to the audience, Chih Hoong Sin, from Traverse, highlighted the importance of also capturing evidence on the relationships that drive outcomes contracts, noting "social outcomes contracting is a bit like dancing on the edge of chaos, bringing together worlds that usually don't come together" - a feature that can often be overlooked if the focus is just on technical characteristics.
Listen to the audio recording of the session.
Afternoon deep dives
After lunch, we once again split into three parallel sessions. The first took a deep dive into a range of academic and practitioner perspectives on the use of social impact bonds (SIBs). We heard about the latest comparative research on SIBs in Europe and Latin America, from the University of Oxford's Vanessa Picker who shared her research on the way SIBs are perceived on Twitter, and from Celeste Brubaker, who reflected on recent lessons from her work as part of the first outcomes contract for poverty alleviation in Sub-Saharan Africa: The Village Enterprise Development Impact Bond (DIB). Reflecting on the latest narratives around the use of SIBs, and whether they are still relevant, GO Lab Fellow of Practice Richard Johnson concluded "If you pay for outcomes you get more outcomes [as compared to if you pay for activities]; IF the contract is well-designed".
Listen to the audio recording of the session.
Meanwhile, we kicked off a discussion on how important it is to receive and genuinely incorporate the views of service users in the development and delivery of public services. Speakers highlighted the importance of engaging community members and inviting them in a way that feels accessible. Rob Murdoch (Bridges Outcomes Partnerships) stressed "you need to trust the voices of those who are the recipients of the service. Because at the end of the day it is them that are benefitting from the service". And Steve Hindle, from the Elton John AIDS foundation, neatly summed up the importance of listening to the humans that lie behind the contracts: "Policymakers need to hear these stories and understand how people on the ground are impacted by a programme - this is what gives us the best chance of influencing policy".
Listen to the audio recording of the session.
At the same time, the outcomes for institutional reform session explored the way in which instruments can address the broader institutional context and social ecosystems in which outcomes sit, rather than focusing solely on direct programme outcomes. Our speakers brought a wide range of perspectives to the issue, from human rights to corporate social responsibility. Avnish Gungadurdoss from Instiglio suggested outcomes approaches can drive reforms to be more flexible, results-driven, and locally-lead institutions. A number of speakers highlighted the important role that soft power, rather than imposed rules, plays in driving meaningful institutional change, with our chair Giulio Pasi suggesting that "outcomes approaches invite you to imagine a better future".
Listen to the audio recording of the session.
Big picture - Using public procurement to build back better?
With Britain leaving the EU - and masses of public money being spent on the Covid-19 pandemic recovery and the climate crisis – it is more important than ever that our procurement system is fit for purpose to successfully contribute to the objectives of a greener and more equal society. But what does using procurement to build back better mean?
This timely session, chaired by Professor Anne Davies, was kicked off by Colin Erhardt from the Government Performance Lab at Harvard University. He gave the US perspective, presenting procurement as a strategy to improve citizen's lives, but highlighting a number of challenges it faces. Anna Lupi from the European Commission gave an overview of the dappled state of play in European countries. She argued for the potential to use procurement to achieve policy goals, noting that while it might not have been a "sexy concept" in most EU countries a few years ago, public buyers are increasingly keen to explore all kinds of social objectives.
Building on the theme of social value, Samantha Butler (UK Government) provided a policymaking view. She framed the Social Value Act 2012 as more than simply adding another requirement to participate in procurement processes – the act is a tool to provide more opportunities for social enterprises and smaller businesses to participate in procurement processes.
However, others suggested that social value is not quite so simple. Deidre Halloran cautioned that "there is a tension between exclusive economic efficiency and different criteria centred on public good and social value", while Andrea Maclean (Social Value Northern Ireland) warned that a "one-size-fits-all" approach to social value will not work. And Christopher McCrudden (Queen's University Belfast) highlighted the challenge posed to procurement professionals by a lack of legal certainty.
Richard Simmons (University of Stirling) framed this as an ongoing problem that will require continued work, noting that the challenge of optimising outcomes through procurement is a key task of governance, but "governance is always a task that's unfinished[…]these aren't problems that will necessarily get solved". Rather, they are re-solved and re-solved over time in the face of new challenges.
Listen to the audio recording of the session.
Public Talk
We concluded the day, and the conference, with our traditional public talk, this year entitled Politicians in the board room? How government should handle responsible business. Karthik Ramanna, Professor of Business and Public Policy at the Blavatnik School of Government and Dr Dambisa Moyo discussed the roles of government and business in society. Both speakers cautioned that many of the problems facing society amount to failures of government and civil society; and it's dangerous, to both corporate boards and liberal democracy, for corporations to fill the void. They argued that policymakers tend to take short-term decisions, but many of the problems facing the world require long term solutions.
However, despite these profound challenges, both ended on a positive note. Karthik said he remains optimistic: "I have great faith in the inherent common sense of people. There are hard moral decisions to make, but this is the nature of the problem". And Dambisa echoed this hopeful message, asserting that "there is a chance for the world to be better than worse in the years to come".
Listen to the audio recording of the session.
Want to read more?
you might also like...