Village Enterprise DIB
Uganda and, Kenya
13 mins read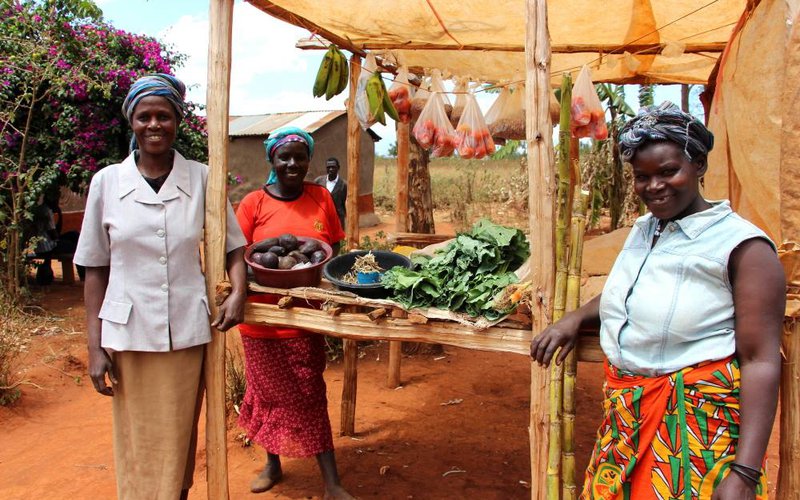 The Village Enterprise DIB is the first-ever development impact bond (DIB) for poverty alleviation in Sub-Saharan Africa.
Key facts and figures
Launch date

Nov 2017

Duration

3 years

Maximum outcome payments

$4,280,618
Target population

Households living in extreme poverty (less than $1.90 per day) & geographically targeted

Outcome funders

Department for International Development, UK (DfID); Development Innovation Ventures division of United States Agency for International Development, USA (USAID); an anonymous philanthropic fund based in USA

Provider

Village Enterprise

Investors

Total of nine, but not all publicly disclosed: Delta Fund; The Laidir Foundation, King Philanthropies, ImpactAssets (gathering 3 private investors, incl. Silicon Valley Social Venture Fund (SV2), Skees Family Foundation, Excelsior Impact Fund); Jay Friedrich; The Halls Family; and Bridges Impact Foundation.

Evaluator

IDinsight

Trustee

Global Development Incubator
Global levels of extreme poverty - defined as a person living on less than $1.90 a day (purchasing power parity - PPP) - have fallen significantly from 1.9 billion in 1990 to 736 million in 2015. However, the number of people living in extreme poverty in Sub-Saharan Africa has increased during this same period, from 278 million to 413 million, with current forecasts predicting this trend to continue. This rise is partially explained by the population of Sub-Saharan Africa doubling during this period. However, many other regions of the world have experienced similar population growth and yet have been able to reduce the number of people living in extreme poverty. 
Poverty is not only the deprivation of money, but of food, education and health care, amongst many other indicators. Ending poverty in all its forms everywhere is the Sustainable Development Goal 1, and a 2019 progress update on this goal shows that: 'The decline of global extreme poverty continues, but has slowed. The deceleration indicates that the world is not on track to achieve the target of less than 3 per cent of the world living in extreme poverty by 2030. People who continue to live in extreme poverty face deep, entrenched deprivation often exacerbated by violent conflicts and vulnerability to disasters. Strong social protection systems and government spending on key services often help those left behind get back on their feet and escape poverty, but these services need to be brought to scale.'
Source: United Nations Sustainable Development Goals Knowledge Platform.
The Village Enterprise Development Impact Bond (DIB) seeks to improve the income levels of at least 12,660 (estimated 13,830) extreme poor households in rural Kenya and Uganda by creating 4,000+ sustainable microenterprises. The Village Enterprise's (VE) microenterprise development programme delivers support in the form of a cash grant as well as regular business mentoring and training - an approach that is commonly known as a graduation programme.
A graduation programme recognises that poverty is complex and multidimensional, and that the extreme poor are generally excluded from social services as well as markets. A graduation approach provides a comprehensive time-bound set of integrated and sequenced interventions with the aim of graduating people out of poverty in a way that is sustainable. This approach was pioneered by BRAC in Bangladesh, 2002, and BRAC have reported positive impacts for the programme recipients as well as the broader economy. 
Village Enterprise DIB Poverty Graduation Programme 
There are 5 components to the programme: targeting, business savings groups, training, seed funding and mentoring. 
Targeting 
Poor households are identified using a hybrid combination of a community-based Participatory Wealth Ranking exercise and a survey using Grameen's Progress Out of Poverty Index (PPI). Participatory Wealth Ranking uses consultations with community members, usually village elders, to identify the poorest households relative to the rest of the community. PPI attempts to establish a household wealth by using a simple questionnaire about household characteristics. For a detailed discussion of poverty targeting approaches see: Coady, Grosh and Hoddinott (2004). However, it should be noted that the effectiveness of poverty targeting is widely disputed (Sen, 1992; Devereux and Sabates-Wheeler, 2004; and Kidd and Athias, 2019). 
The VE DIB is implemented in remote rural areas of Kenya and Uganda, East Africa where more than 50% of the population live in extreme poverty.  
Kenya: Trans-Nzoia and Bungoma
Uganda: Soroti, Dokolo and Amuria
Business savings group 
Business savings groups (BSGs) are formed at the beginning of training, comprising of approximately 10 businesses (30 entrepreneurs) each. The BSGs create the platform through which Village Enterprise carries out the training program. BSGs are also used to establish trust and respect between the participating community members. While Village Enterprise expects programme recipients to participate in BSGs, they are self-generating and self-managed, with a personalised constitution. BSGs are a form of microfinance that allow members to pool savings and access loans. By pooling savings BSGs provide members with ongoing protection against financial shocks, as well as provide access to growth capital.  
Training 
Local mentors deliver a four-month training programme, with modules on financial literacy, business education, entrepreneurial skills, and resource sustainability. The aim of the training programme is to equip programme participants with the necessary knowledge to run a small business. Participants form groups of three and agree a plan for a microbusiness that they will launch together. The Business Mentors support and guide the participants in selecting a viable business. 
Seed funding  
Each group is provided a cash micro-grant to enable them to launch their business. The seed funding is in the form of a grant rather than a loan, meaning the businesses are not expected to repay the seed funding. The rationale for providing a grant and not a loan is that entrepreneurship is by nature a high-risk activity; therefore, a grant reduces the fear of the cost of failure, and incentivises innovative business ideas. In order to test the impacts of grant levels approximately 65% of business (group of 3 individuals from different households) will receive a $150 seed with the remaining 35% receiving $450. This means that each household receives either $50 or $150 
Mentoring 
The local business mentors provide continuous guidance to the participants for one year, coaching them in choosing the focus of their business, as well as how to grow and manage their business and finances, including saving in the BSGs. This is a critical capacity-building phase to ensure the sustainability of the business after the participants exit the programme. 
Source: Village Enterprise.
The programme outcomes were validated by a randomised control trial (RCT) conducted by IDinsight between November 2017 and August 2021. The level of outcome payments for the DIB were determined by the results from the RCT.
The RCT was designed to answer the following questions:
Primary question:

What was the impact of the Village Enterprise program on household consumption and asset value, relative to control households?

Secondary questions:

What was the impact on household consumption and assets for those households that received at least the first business grant?
Were there differences in the impact on household consumption and asset value, based on: cash transfer size; cohort; country; gender of the household head; the presence of a household member with a disability; baseline wealth levels?
How does endline consumption and asset vary by: business type; business group size; business health; participant gender; participant disability?
Full details of the RCT design and results (randomisation, data collection and data analysis) can be found in Village Enterprise Development Impact Bond Evaluation Findings.
Six months to 2.5 years after the conclusion of the program, the Village Enterprise program continued to have a positive, statistically significant impact on the livelihoods of its extreme-poor recipients.
The findings show that, in spite of the pandemic, beneficiaries of the Village Enterprise program were still able to increase their consumption and assets, which points to the success of the Village Enterprise model in promoting self-reliance amongst its program participants.
IDinsight's research shows the important role that mentorship and business skills training, in addition to cash transfers, play in efforts to build sustainable solutions out of poverty.
"We found that Village Enterprise's program led to higher household consumption and expenditure, meaning that, several years after the program, families who participated in the program are eating more food and spending more money on things like mobile airtime and healthcare. Families in the program also had more wealth, such as livestock, household furniture, savings, and business supplies. Based on the increases we observed, we estimate that the program will generate lifetime impacts of over $21 million, roughly four times the overall costs of the project" Jeff McManus, Senior Economist of IDinsight and one of the DIB researchers.
Source: Village Enterprise / IDinsight
Key granular-level RCT findings
Consumption: The Village Enterprise program had a positive and statistically significant impact on monthly consumption for households that were offered the program. On average, treatment households consumed 9.9 USD (or 6.3%) more per month than the control group. Effect sizes were larger in Kenya (15.2 USD or 7.3%) than in Uganda (3.9 USD or 3.6%).
Assets: The Village Enterprise program also had a positive and statistically significant impact on household net assets after the end of the intervention. On average, households in the treatment group have USD 40.5 (or 5.8%) more in net assets than those in the control group. Effect sizes were larger in Kenya (60.9 USD or 8.5%) than in Uganda (15.6 USD or 2.3%).
Larger versus smaller grants: In Kenya only, some households received larger grants (150 USD/household) while others received smaller grants (50 USD/household). Households that received larger cash grants did not have significantly different treatment effects for consumption than households that received smaller grants, though they did have significantly larger treatment effects for assets (87.7 USD for larger grants vs 5.9 USD for small grants).
Household wealth: Treatment effects on consumption were generally larger for households that had more wealth prior to the introduction of the program. Treatment effects on assets are not strongly correlated with baseline wealth.
Other subgroups: There were no clear patterns of differential program effects for other pre-specified subgroups (cohort of treatment household, gender of household head, household member with disability).
COVID-19 impacts on well-being: 87% of respondents reported that the COVID-19 pandemic has had an effect on their economic well-being. Households that reported being negatively affected by COVID-19 achieved similar treatment effects as other households.
Full statistical results of the RCT can be found inVillage Enterprise Development Impact Bond Evaluation Findings.
Outcome Payment 
Based on the RCT results, investors to the Village Enterprise DIB received the maximum payment of $4,280,618.
Source: Village Enterprise Development Impact Bond Evaluation Findings.
Outcomes framework
Outcome indicator 1: USD increase in monthly consumption per capita compared to control group (USD PPP 2016 units). 

Outcome indicator 2: USD per capita increase in assets stock compared to control group (in USD PPP 2016 units). 
Outcome payments are tied to the RCT conducted by IDinsight, with Village Enterprise  being paid approximately $1 for every $1 increase in household income. Household income will be measured against consumption and assets. The rationale is that growth in assets provides some evidence that impact of the programme will be sustainable over the long-run. Given a seed funding transfer to beneficiaries (either $50 or $150), the calculation is based on resultant increase in household level of a) consumption and b) assets above the initial seed transfer. 
The total budget committed by outcome payers for outcomes is capped at $4.28 million to Village Enterprise and its investors. Payments for the seed funding of phase of the programme is capped at $1.2 million. There is an additional outcome payment cap of $265 per household.  
The payment formula closely follows the Village Enterprise DIB Theory of Change, as it seeks to attribute increases in household consumption and assets.
Source: Instiglio (2018) Village Enterprise Development Impact Bond for Poverty Alleviation. Pp 18-25.
Timeline
Service provider selection. From a long list of 80, Village Enterprise was selected to implement the DIB.

2014-2016

Outcome payer engagement began in May 2015 with a strategy to primarily focus on engaging foundations and other private donors. However, no outcome funding commitments were raised by late-2016. At this time, the anonymous donor and Instiglio worked with Village Enterprise to continue developing a more detailed design as well as shift the outcome payer engagement focus to bilateral funders. After a comprehensive assessment, USAID Development Innovation Ventures and FCDO agreed by early-2017 to be outcome payers.

2015-2017

Investor engagement. Conducted by the service provider, Village Enterprise. 

2016-2018

The DIB design. The preliminary DIB design work was conducted during the second half of 2016, this involved drawing in outcome payer commitments (USAID and FCDO). Then, between May and Nov 2017 DIB design negotiation, updating, and finalisation was conducted, alongside contracting Sept-Nov.

2017

A trustee, the Global Development Incubator, was appointed with the responsibility of collecting, holding, managing and disbursing the funds as well as drawing, signing, holding and managing the various contracts. The rationale for using a trustee was to reduce the burden of contracting and fund management from the other stakeholders, including the outcome payers.

2017

RCT evaluation design and evaluator selection.

2017

The project was launched.

November 2017

Investment Fundraising of $2.325 million was closed

June 2018

Programme delivery adapted to remote programme delivery due the COVID-19 pandemic

March 2020 - Onwards

Completion of the randomised control trial evaluation by IDinsight

2021
Project insights
The first DIB to be implemented in Sub-Saharan Africa 

The VE DIB is the first DIB to be implemented in Sub-Saharan Africa and is seen as a way of increasing cost-effectiveness on poverty spending for donors. The DIB model is seen as a way of shifting focus and financial resources from monitoring outputs to measuring outcomes.   

The VE DIB model has four potential advantages over conventional funding models:  

By tying funding to verified outcomes, the DIB ensures the interests of VE and their investors, and the donors are well aligned and focused on improving the same social outcomes. 

As the DIB requires measuring program outcomes, it makes those outcomes more visible, drawing the attention of the service provider to what really matters, rather than to the activities performed. 

The DIB offers flexibility and freedom to VE to pursue a range of strategies and adapt the program to maximize impact. The wide range of results observed for other graduation programs suggest that successful scale-up or replication of the graduation model would require that VE adapt their approach to the Kenyan and Ugandan contexts, and rapidly address challenges that they encounter. 

As donors only pay if social outcomes are achieved, the DIB ensures that every cent spent creates a real impact, providing a greater guarantee of value-for-money compared to pay-for-inputs funding. 


Source: Instiglio (2018) Village Enterprise Development Impact Bond for Poverty Alleviation.

Increased collaboration and innovation 

The prevailing view from stakeholders was that the design phase of the DIB saw high levels of engagement, collaboration and negotiation between different stakeholders. Stakeholders felt that there were two factors behind this; firstly, as a relatively new funding mechanism it took longer for the various parties to get to grips with and agree what was required from each of them and secondly, with the involvement of various stakeholders, the mechanism was seen as 'more complicated', with higher levels of discussion and negotiation seen as a natural element of the DIB.

The additional funding has also allowed Village Enterprise to have more flexibility with other innovations, such as adaptive management practices, piloting of mobile money and using different grant sizes. Furthermore, outcome funders stated that the DIB design helped to create 'a space' for these innovations; the rationale was that with the transfer of risk from the outcome funder, the service provider is able to deliver the intervention as they see fit and adapt it where necessary to achieve better results. Therefore, the mechanism enabled innovation by providing the service provider with the funding and space to do it. 

Source: Ecorys (2021) Village Enterprise Development Impact Bond: A case study produced as part of the evaluation of FCDO's Development Impact Bond Pilot Programme

Costly design process

All stakeholders agreed that the process of getting the DIB 'off the ground' was a rigorous process which took considerable time, energy and effort. In the case of Village Enterprise, there was a need to consult with external professionals such as lawyers and accountants (over 200 hours of time in total). Village Enterprise estimated a total of 3,218 hours of staff time (i.e $158,000) on the DIB design and set up as well as the outcomes payers and investment funds. One staff member stated that half of their time in 2017 was spent on this DIB.

Stakeholders felt, however, that this may only be a 'one-off' disadvantage as learning taken from this process can be applied to future DIBs where the design and set-up phase could be more efficient. And FCDO stated that learning from this design phase will help in the future. For example, the contracting process could be smoother with better knowledge of what is required and a clearer idea of the roles.

Source: Ecorys (2021) Village Enterprise Development Impact Bond: A case study produced as part of the evaluation of FCDO's Development Impact Bond Pilot Programme


Programme resilience in the face of COVID-19

The extraordinary circumstances of the COVID-19 pandemic had the potential to have a profound negative impact on the Village Enterprise DIB. As noted above, the programme delivery model was designed around in-person business saving group meetings and in-person business training. Furthermore, many of the Village Enterprise DIB micro-enterprises' used physical market places to sell their goods. When COVID-19 hit Kenya and Uganda 'normal' delivery of the Village Enterprise DIB was not possible as restrictions to the movement of people were introduced and market places were forced to close. Therefore, the Village Enterprise team needed to respond rapidly to adapt the delivery model to build resilience within the micro-enterprises.

As travel and holding physical meetings was not possible the Village Enterprise team quickly pivoted to providing remote mentoring using phone calls. These phone calls were complemented with SMSs. These services supported entrepreneurs and business mentors to identify solutions, adapt, and innovate during the onset of the pandemic.

At the onset of the pandemic, April 2021, the Village Enterprise team conducted a phone survey with over 1,100 small business owners to learn what were the most significant issues they were facing. They learnt that as a result of the restrictions on movement and market closures 71% of micro-enterprises in Uganda and 84% of micro-enterprises in Kenya had seen a reduction in their revenue. Upon receiving this feedback the Village Enterprise team and the DIB Working Group agreed that it may be merited to adapt the DIB contracts to allow for an out-of-cycle stimulus grant to affected business groups. To confirm the appropriateness of delivering a stimulus grant two critical assumptions needed to be validated:

Assumption one: despite the current economic climate, business groups will invest funds provided in their businesses.
Assumption two: the Covid-19 Pandemic has had deleterious effects on business health, such that a stimulus grant is needed to help businesses overcome liquidity constraints.

The study validated the first assumption though it invalidated the second. In order to recommend the deployment of a stimulus grant both assumptions needed to be validated. Therefore, it was recommended that the stimulus grant should not be deployed. The Village Enterprise view is that the training and social capital - delivered through the Village Enterprise DIB - have complement the in-programme asset transfers increasing business owners' independent adaptability and resilience.
Downloads and Resources
Independent Evaluation of the UK DFID's DIBs Pilot programme – Full Report
Download PDF